voc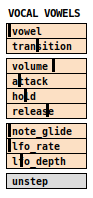 Vowel/formant synth that uses unstep as a sequencer.
Controls:
vowel

selects a vowel sound (a,e,i,o,u).

transition

adjusts the time it takes for the vowel to change smoothly.

volume, attack, hold, release

control the amplitude envelope.

note glide

controls the time it takes for the pitch to change from one note to the next.

lfo rate and lfo depth

adjust a low frequency 'wobble' or vibrato effect applied to the pitch.

unstep

opens the sequencer. At the bottom of the unstep sequencer panel are controls for sequencing changes to some of the controls above.